#Crochetfun - Beary Velvet Crochet Blanket Hoodie
I don't know about you guys, but I keep seeing all these ads for those awesome 'Oodie's' however I couldn't quite find a design or colour or style that I liked. Then I saw the Yarnspirations Beary Velvet Crochet Blanket Hoodie and I was hooked (#notsorry about the pun).
Pattern
Yarnspirations are known for their well laid out and informative patterns. The Beary Velvet Crochet Blanket Hoodie pattern was super easy to follow and enjoyable to complete. It was a really nice project if you are looking for some mindfulness or a break from a pattern that requires more concentration. It comes with 5 pages of instructions including schematics and clear images of the finished product - it's also available to purchase as a kit.
The sizes to fit bust size are:
XS/XL 28-46" (71-117cm)
2/5XL 48-62" (122-157.5cm)
I did have a little trouble when I came to doing the hoodie portion of the pattern in regards to where to start the stitches. I worked this out by looking at the schematics that are included and started on the front panel and at the top by the shoulder where the pattern stated to leave it open. As mine was open quite wide, I had to close it up a bit more to use the number of stitches it stated.
I found it a little challenging as the bulk of the pattern gives you information based on doing the pattern inches rather than the actual number of stitches and rows. Then at the point of adding the hoodie section it mentions number of stitches rather than the inches that should still be available. I eventually got it though (after sleeping on it) and have now finished this gloriously big cuddly hoodie!
Thank you to my lovely friend Caroline for modelling the finished product!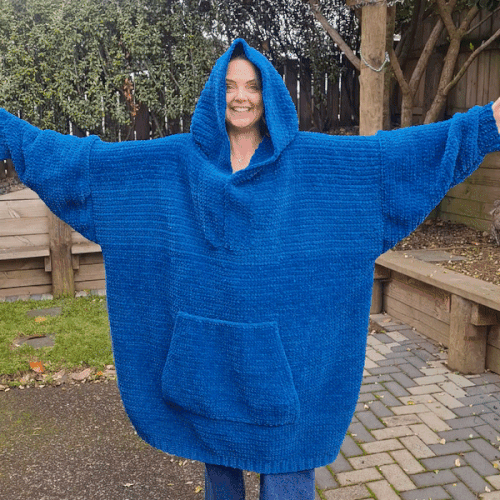 Yarn
I decided to use Hobbii Baby Snuggle in the Dark Teal (17) for this project. The recommended hook size for this yarn is 6mm however my gauge is the same as the pattern so I'm using a 5.5mm hook for this particular project. It's 100% Polyester, 120 meters
This yarn is super soft and cuddly so I'm definitely going to be using this again. The colour isn't quite right in either of these images but there are lots of gorgeous colours to choose from.
Difficulty
Good news for my beginner crochet friends - this is the perfect project to try working on a garment for the first time.
The pattern is made up of chains, single crochets, back loop and increase/decrease techniques which are all covered in my Beginner Crochet Course.
Again, it may be a little challenging when getting to the hoodie portion but just double check your information against the provided schematics and you should be able to work it out.
I believe this particular pattern will be quite forgiving of any mistakes because of the size of it, and the easy use of the yarn. I would always recommend checking your gauge before you start by doing a swatch though, so you can be confident the finished size is correct and you don't end up running out of yarn.
If you end up making this cool hoodie I would love to see your finished items!